Decorative and architectural metal surfaces and finishes
Our range of specialised coated, anodised and lacquered products provides designers with an exciting and striking solution for many different applications. These include automotive badges and trims, external architectural facades, interior designs and ceilings, plus furniture laminates, signs, nameplates and household appliances. Our decorative metals for external applications include products with a 20 year guarantee.
Our decorative surfaces product range
DECO PRIME® surfaces offer a range of portfolio extension options: from matt, blur, diffuse and high gloss mirror finishes to textures and colours. They can be produced in widths of up to 1350 mm, with no length restrictions for wall and ceiling panelling for material taken in coils. Also, sheets can be supplied with sheet lengths of 3+ meters and material thicknesses from 0,1 mm to 1,5 mm. With DECO PRIME®, the sky is indeed the limit.
Multiple applications
DECO PRIME® thin aluminium foils help take furniture and kitchen design to the next level. As they are flexible and bendable, they can wrap around edges or bend into hollows, delivering exciting new design opportunities for cabinets, furniture, doors, frames and shelves, or household appliances and electronic devices. Adding character to any space, the foils can also deliver either a soft, or metallic touch.
A near infinite colour palette
The standard colour palette for DECO PRIME® ultra-tough foils includes dark bronze, brass, light bronze, stainless steel, natural, silver and grey. A new range of colourways is also being worked on at present. Custom colours are available on request, offering designers a near infinite colour palette.
Adhesion to multiple surfaces
The foils come with a pre-treatment for adhesion to a range of base materials, including ABS, PVC and other plastics. (Primers for HPL applications will be available shortly).
Samples of DECO PRIME® coloured thin aluminium foils are available on request to Alanod.
DECO PRIME® Thin Foils – extraordinary variety
Our thin foils offer exciting new features and possibilities for your furniture and interior design and benefit from features such as scratch resistance, soft touch and anti-fingerprint.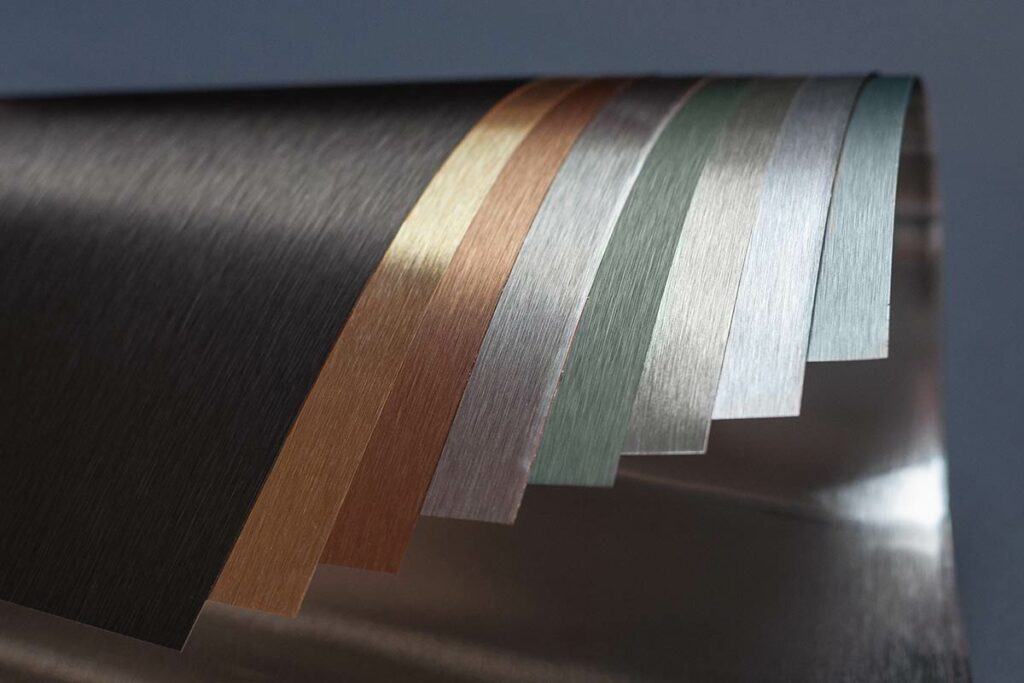 Coloured anodised surfaces
We have perfected an advanced process for integrating coloured pigments during the anodising process. This results in a highly durable and stable coloured surface without affecting the mechanical or chemical properties of the substrate material or the ability to create a matt, gloss or brushed-effect surface finish.
We're able to offer a full palette of standard colours as well as blend a specific colour to match your design or corporate requirements. Products for external applications are provided with a comprehensive 20-year guarantee.
Clear and coloured lacquer systems
We use a specially developed opaque or translucent lacquer to protect the surface properties and finish of our coated metal materials for decorative applications. This ensures that each product delivers optimal long-term performance, with the surface colour and finish remaining as attractive after many years as it was when first installed.
Products for external applications are provided with a comprehensive 20-year guarantee.
We can provide products with a stainless steel, copper or coloured finish, with high-gloss and matt surfaces, and a choice of clear and coloured lacquers. These are available with one or two-sided primers, forming an adhesive layer in composite constructions such as high or continuous pressure laminates (HPL or CPL) or aluminium and plastic hybrid parts.
Flagship Store Michael Kors, Shanghai
Alanod's DECO PRIME®, a textured mirror finish aluminium surface, has been used to create hundreds of thousands of hand-cut reflectors for the exterior of the iconic Michael Kors flagship store in Shanghai.
Contact us with your request and our UK team will be happy to help.